As the 2020 Season begins, KC are celebrating, Shanahan just got done getting out of the Heimlich Maneuverer and the rest of the NFL heads into a re-signing frenzy. But where do the cash-strapped Vikings fit into this fray? With the leagues lowest cap space available, all seems lost going into the post-season, but this team is still seemingly on the cusp of something amazing.
For all intents and purposes, the Vikings had a season typical to that of their history: an indifferent start, a solid mid-season, slowing down a few weeks to the playoffs finishing on a miracle then a blowout-type game to end it (2017 with Keenum under centre springs to mind, but the 13-3 is a lot better than the 10-6 the 2019 Vikings did).
Its clear to see who doesn't have a future at the Vikings, and who they should be prioritising. Firstly, given recent speculation, it has to be stated:- Stefon Diggs isn't going anywhere, deal with it, if he does its an instant downgrade for the Organisation and messes up any draft plans. You wouldn't think, a player coming off a 1000+ Yard season, signing a new deal until 2023 and being the piece of fire in an overall "too nice for itself" team is a trade candidate, and you'd be right, he's not. The focus on those we can lose sits more so on those entering the final year of their deals, offering little production to their contracts or reaching the wrong side of 30 that might mean its better to move on now.
The main bulk of the focus has to be on who we're losing as Free Agents (F.A) now that the 2020 Season has started, which is as follows:-
Ameer Abdullah (RB), Mackensie Alexander (CB), Dan Bailey (K), Kentrell Brothers (OLB), Britton Colquitt (P), Dakota Dozier (LT), CJ Ham (FB), Anthony Harris (SS), Rashod Hill (G), Jayson Kearse (S), Sean Mannion (QB), Andrew Sendejo (SS), Marcus Sherels (CB), Laquon Treadwell (WR), Trae Waynes (CB), Stephen Weatherly (DE), Eric Wilson (OLB)
It's a comprehensive list, however its easy to see who the Vikings have to prioritise re-signing. Firstly, Dan Bailey has brought consistency to the Kicker position for the Vikings which historically has been a troubled area for the team, with Bailey making 93.1% of Field Goals and 90.9% of Extra Points Attempts, making his re-signing almost a certainty, similarly in the Special Teams department is Punter Britton Colquitt, who only registered One Touchback through the entire 2019 Season, with this occurring in the playoffs, and finishing the season with a punting average of 45.2 Yards from 62 Punts, with a longest being 59 Yards, he yet again offers consistency in the position and resigning must be a priority for not only this reason but also both offering a Veteran presence in the locker room.
Another name on the "we must resign" list was a name prominent with the upturn of the run game in 2019, that being CJ "Hammer Time" Ham who took in 17/26 Passing Attempts for 149 Yards and 1 Touchdown, whilst also had 7 Rushes for 17 Yards, whilst not entirely impressive on paper, it was the blocking attempts to establish the run that allowed Cook to break for 1000+ Rushing this season and earning him (Ham) his first Pro Bowl stint, showcasing his true value to the team and his crucial role in establishing what new OC Gary Kubiak will be wanting to achieve.
Finally, there is one last name on the resign list that should be priority No.1 above all else. Anthony Harris tied 1st in the NFL for Interceptions (6) registered 35 Solo Tackles, 1 Fumble Recovery and 1 TD in 2019, earning him a ranking of 3rd in the PFF Free Agents list and finishing on a rating of 90.5 from PFF on the season, balling out as the former Undrafted Free Agent paired up with Harrison Smith to create the leagues most dominant Safety pairing in 2019, and if the Vikings want to fix the Defence and keep its skill positions in as strong a shape as possible, every attempt has to be made to save Harris from leaving.
However, the Vikings have a very substantial issue in this free agency, stemming from QB1's contract, and that is a Cap Space that entering 2020 sits a $-12,330,944, so cuts will have to be made in order to facilitate any resigning attempts. For this, the Vikings must look at their under-achieving stars in the final year of their deals to free up the space. Similar to Diggs, it has to be stated Cousins won't be cut. He is QB1, balled out for the most part in 2019, and is probably in-line with an extension instead of being released at the end of 2020 like a small portion of the fanbase seems to want. However, there a relevant members who MUST be cut in order to succeed.
Firstly, Xavier Rhodes. Everyone knows it, the former "Rhodes Closed" advocate has under-performed since his injury after signing a huge deal in 2017, and reaching the last year of his deal a release for the player, or even a trade if any team is willing, will free up $8,100,000 in Cap Space should it be done, and is easily the first candidate for any post season moves. Secondly, Jaleel Johnson, whilst an alright player in his own right, the ability to free up almost $1,000,000 in Cap Space should easily be taken as a cut target as there is no dead cap hit, for similar reason Ben Gedon should be on the chopping block, as injury concerns (missing half the season in 2019) added to very little production overall means a player like Gedon is easily replaced in the draft.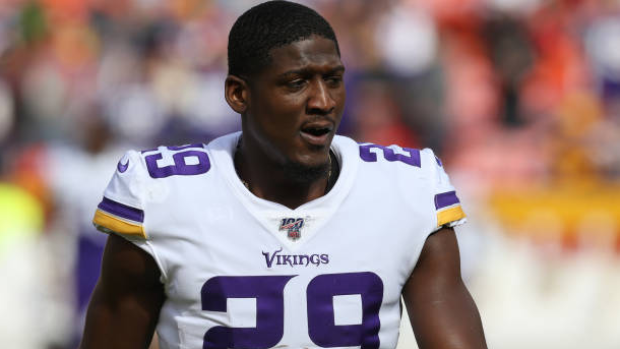 So far, that clears up around $10,000,000 meaning the Vikings will still sit $-2,000,000 under the Salary Cap. Players potentially like Griffen and Rudolph may need to re-structure deals, and if this doesn't occur then they need to be shipped off, as they'll both be the wrong side of 30 in 2020, and in the case of Griffen he can void his contract if needed between 2020-2022, so should a restructure be suggested it may be taken as an option should Griffen feel his value will be upheld elsewhere (edited note:- Griffen, after the time of writing, voided his deal and is in discussion with the Vikings about a return). Even players not in their last year, such as the "Big Goon" Linval Joseph could be potential trade targets, as the age hinders the win now mentality, although such a move with Joseph is the last grasp should cap space be that desperate.
Should the Vikings resign those listed as a priority, and somehow have cash to spend, then O-Line Pickups should be the F.A priority and leave the draft to fix major problems. T Jack Conklin is a name the Vikings should explore if possible, as he remained fit through 2019, showcased his talents and can offer an impact similar to Josh Kline from last season, and similar in that mould is G/C Graham Glasgow should the team move on from Pat Elfien (who is another player experiencing mixed fortunes) and finally T Matt Feiler rounds off O-Line Targets if the Vikings have any wiggle room after resigning the tools necessary for success that they could potentially lose into F.A, but this fan definitely prays that we keep them.